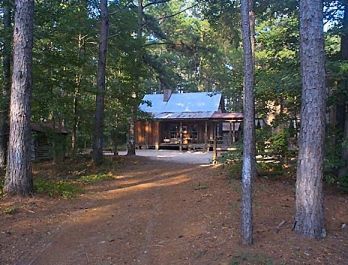 The Tol Barret House
Bed & Breakfast
This B&B accommodation is in the detached outdoor kitchen of the Tol Barret House complex, which includes, in addition to the plantation house, a well house, a smoke house and the kitchen. It is a two-story building with cut-stone fireplace in the living/dining room area, a modern kitchen and modern bath, and second-floor bedroom. The upstairs sleeping quarters includes two double beds on one side of the chimney and two single beds on the other side. These two areas are separated by the staircase. Furnishings are antiques of the period, i.e., Texas in the 1840s-1870s.
The modern kitchen is fully equipped with appliances, china, glassware, etc. and is stocked with homemade bread, homemade jam, venison sausage, bacon and eggs, cereal and milk, fresh fruit, orange juice, tea and coffee. You can use this generous stash of food at any time, not just for breakfast, and you can bring your own food from home, or from local restaurants or grocery stores.
The Barret House will sleep up to 6 people from the same family or group, but keep in mind that there is only one bathroom. When you reserve the Barret House, your party has the exclusive use of the entire Kitchen Building , whether you are a "party" of one or six.
NEW Rates for the Year 2008

$95 for the first two people for the first night PLUS a $10.00 fee if you only stay ONE night.

$95 for the first two people for each subsequent night

$20 per person for each additional person per night



TO MAKE A RESERVATION: please contact us at 936-569-1249 or see below for information on our online availability checks and reservation requests.
Our Webervations system gives our web site visitors the opportunity to check the availability of specific houses on specific dates and make a request for a reservation right online. We are a small, historic and very personal Bed & Breakfast -- we are not an "inn" and we don't want to become too "automated". Online availability and reservation requests are purely optional and are available as a convenience to you. You can ALWAYS call and talk to a real human being at 936-569-1249. Even when you make a reservation request online, we will always call you to confirm it, so you will have personal contact with us either way. Please try the system if it appeals to you and give us your feedback.

Now finally available!
Please do visit us again soon!



This web site is created and maintained for Llano Grande Plantation B&B by Pamela Ann Phillips of WebPsalms.
Copyright 1996-2008. All Rights Reserved