THE LLANO GRANDE PLANTATION
Nacogdoches, Texas
An Historic
Bed & Breakfast
Deep in the Piney Woods of East Texas

Llano Grande Plantation Bed & Breakfast is also a 700-acre working Tree Farm, nestled deep in the Piney Woods near Nacogdoches in East Texas. Bed & Breakfast Guests can enjoy the peaceful, serene surroundings, walk in the woods, fish, do some bird-watching in our two stands or just sit and swing on the porch and unwind. The Proprietors, the Phillips family, offer two Bed&Breakfast Accommodations, each in private, beautiful surroundings. Each of these bed & breakfast buildings are Landmark historic restorations. The Tol Barret House is on the National Register of Historic Places in addition to being a Texas State Landmark. The most elegant historic house is RoseWild: The Simpson Plantation House. These homes have both been restored "by hand" with great deal of love and attention to detail. Their charming interiors and beautiful surroundings have been featured in a number of national magazines.
Look for a NEW FEATURE: Llano Grande Plantation
Photo Album -- Coming Soon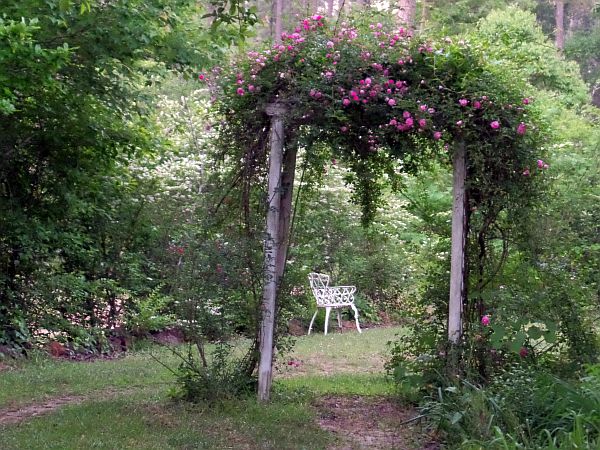 Rose Arbor at Sparks House
***The Weather is Gorgeous
in Nacogdoches***
....everything is blooming
....and we are nearly solidly booked.


We do still have a few places in mid and late May, and some in June. Don't wait -- this is the BEST time of year to come. REMEMBER that you must make a WEBERVATION if you want to definitely reserve one of our houses.The WEBERVATION is a request for a reservation. When we receive it, we will then call and speak with you personally to confirm your Reservation.
To come and enjoy all the loveliness of Spring in East Texas, make your Webervation NOW!
Our WEBERVATIONS system gives our web site visitors the opportunity to check the availability of a specific house on specific dates and make a request for a reservation right online. PLEASE TAKE A FEW MOMENTS TO MAKE A "WEBERVATION". We are a small, historic and very personal Bed & Breakfast -- we are not an "inn". Having the Webervation information available is a huge help to us and we would very much appreciate it. In addition, you can ALWAYS call and talk to a real human being at 936-569-1249. Even when you make a reservation request online, we will always call you to confirm it, so you will have personal contact with us either way.
TWO IMPORTANT PIECES OF INFORMATION:
We are not set up to take credit cards, but your personal check or cash is welcome.
DO NOT USE GOOGLE or other commercial maps. We will send you our own map when you make a reservation.

Our Bed & Breakfast Accommodations

Bed & Breakfast Proprietors

Our Resident Family of Dogs and Cats

Llano Grande Owner Ann Phillips in Texas Treasure Awards Video for Nacogdoches

Things to Do and See in Nacogdoches

Genealogical and History Resources
in Nacogdoches

Nacogdoches
Visitors and Convention Bureau

TravelTex: Travel in East Texas

The Weather in Nacogdoches

Nationally Recognized Architectural Conservation Firm: Charles A. Phillips, Architect and Conservator

WebPsalms: Web Site Design and Creation

TheologiPsalms: Expert Writing/Manuscript Editing


Along Our Lane:
Llano Grande Plantation Newsletter

This web site is created and maintained for Llano Grande Plantation B&B
byPamela Ann Phillipsof WebPsalms.
Copyright 1996-2013 All Rights Reserved